Raw feeding is founded upon a natural, fresh diet based upon species-appropriate foods wild candids consume. However, as raw feeding becomes popular, more incorrect information spreads. As the raw feeding movement grows, misinformation gets mixed in and many pet parents may become confused between myths and facts.
There are many myths surrounding raw feeding. Many of these myths are created by individuals without a full understanding of the diet and how the diet impacts a pet's life. These myths spread far and wide. The most common myths include the following:
Aggressive Behavior
Raw feeding makes dogs and cats become aggressive towards humans.
Bloodthirsty Killers
Dogs and cats will become bloodthirsty killers and begin killing other animals.
Harmful Bacteria
Raw feeding will make pets sick from harmful bacteria.
Cooked vs. Raw
Cooking raw meat is more nutritious than feeding raw meat.
Raw Bones Are Dangerious
Raw bones are extremely dangerous and should never be fed.
Bones Are Unsafe For Puppies & Kittens
Young puppies and kittens should not consume raw bones.
Large & Giant Breed Puppies Cannot Have Raw
Raw diets negatively affect growth and development of large and giant breed puppies.
Fortunately, these myths are inaccurate. Many of these myths do not give the full picture of the benefits dogs and cats receive through a fresh, raw food diet and are a fabrication of fear mongering to steer pet parents away from feeding their pets a raw diet.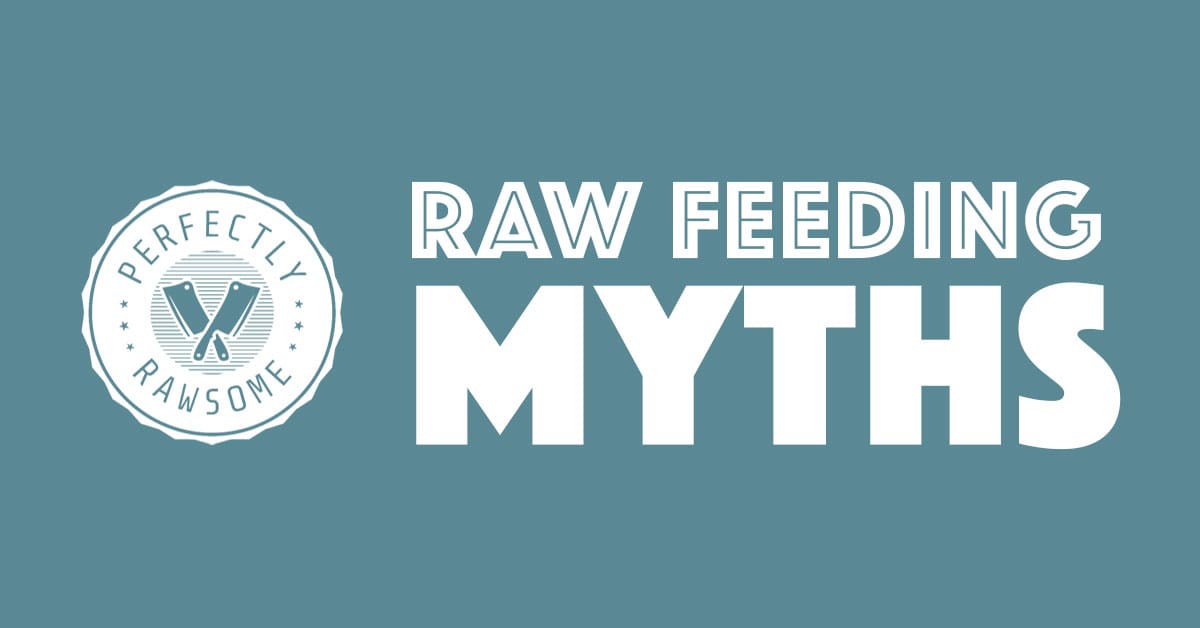 Myth: Raw feeding will makes pets become aggressive to humans.
Fact:
Feeding raw meat to dogs and cats does not result in aggressive behavior when a balanced diet is fed. However, feeding an improperly balanced raw diet, lacking in the essential amino acid tryptophan, has a negative impact on serotonin in the brain and results in aggressive behavior as a symptom of deficiency. This can easily be reversed with a properly balanced diet that supplies recommended allowances for tryptophan.
Myth: Raw meat makes pets "bloodthirsty" and kill animals.
Fact:
Dogs and cats are natural hunters and hunting is what they are designed to do. Kibble-fed dogs and cats have been known to hunt and kill small prey animals such as mice, rats, small birds, etc.
There are breeds with a higher drive to hunt and kill prey – so some pets will naturally hunt while others may never hunt. The foods pets are fed is not a determining factor of whether or not they will hunt prey. Prey drive is determined by a combination of breed genetics, obedience training, and how a pet's behavior is managed.
Myth: My pet will get salmonella from raw meat.
Fact:
Salmonella can only survive in higher pH conditions (4-8+) and requires at least 12 hours to reach incubation. The hydrochloric acid in a carnivore's stomach is a protective enzyme against pathogens. Their stomach is highly acidic (about a pH 1) while their digestive system is short and lacks complexity. Bacteria is killed when ingested and passed within 4-6 hours as waste. Since the time to complete digestion is very short, the bacteria does not stay in the body for long.
Myth: Feeding cooked meat is better than raw.
Fact:
Cooked meat destroys or alters proteins, vitamins, fats, and minerals. However, other nutrients are liberated via cooking where they are not bioavailable in their raw for. Therefore, cooking food makes some nutrients less available and others more available.
Cooked diets will require formulation to ensure all essential nutrients are provided due to any loss during cooking raw meats and organs. 
Myth: Raw bones are dangerous because they splinter.
Fact:
A very common misconception about feeding bones is that raw bones are dangerous. In fact, raw bones are great for pets and are totally safe! Raw bones are soft and are easy to digest in comparison to cooked or dehydrated bones. Cooking and dehydrating bones removes moisture from the bones which makes them hard, splinter when eaten, and difficult to digest which can result in harmful intestinal perforations and blockage.
Bones Are Unsafe For Puppies & Kittens
Myth: Puppies and kittens are too young and small to have raw bones.
Fact:
The same rules for feeding raw bones to adult dogs and cats apply to puppies and kittens. Giving raw bones to puppies and kittens is totally safe when providing the appropriate size cuts for the size and age of the pet.
Smaller bones are recommended to start with and work up to larger bones as the pet grows. If the puppy or kitten is weaning from the mother, raw grinds with bone mixed in is recommended in the beginning, until they can begin chewing whole foods.
Large & Giant Breed Puppies Cannot Have Raw
Myth: Large and giant breed puppies should not be fed raw because it will affect their growth.
Fact:
Large and giant breed puppies are no different than any other puppy. Like all puppy breeds, large and giant puppies need to grow very slowly to avoid developing joint and bone issues. They do have specific requirements to maintain a balanced calcium to phosphorous ratio of 1.2:1 but this does not mean they cannot eat a raw diet during their developmental periods.
Remember, each dog (and puppy) is different – the guidelines provided are just starting points and the diet should be adjusted to provide recommended allowances for calcium to phosphorus in a balanced ratio.
As long as pet parents are following feeding guidelines and using safe food handling practices, raw feeding should pose no risk to dogs or cats. It is important for raw feeders to not only do research before starting a pet on a raw diet, but also to verify that the information they are getting is from a reputable, knowledgeable, and reliable source.